Honoring the Sacred Feminine: An Autumn Remembrance. Works by Heidi Darr-Hope
October 26 @ 5:00 pm

-

November 4 @ 3:00 pm
Honoring The Sacred Feminine:
An Autumn Remembrance
Works by Heidi Darr-Hope
1993 – Present
An Exhibition and Participatory Community Altar 
Honoring Endings and Beginnings
What we call the beginning is often the end.
And to make an end is to make a beginning.
The end is where we start from.
– T.S.  Eliot, "Four Quartets"
Opening Reception
Thursday, October 26th – 5:00 – 7:30
artist talk 6:00
Closing Reception
Friday, Nov. 3rd – 5:00 – 7:30
artist talk 6:00
Gallery Hours
Friday, Oct. 27th – 11:00 – 3:00
Saturday, 28th – 11:00 – 5:00
Sunday, 29 – 11:00 – 5:00
Wednesday, Nov. 1st – Saturday the 4th
11:00 – 3:00 
The snake began visiting me over 40 years ago, haunting my dreams repetitively, and eventually unleashing my heart, and embracing me with her elusive wisdom. Shedding layers of unresolved trauma, my dreams led me into the world of the lost Feminine. My studies into matriarchal cultures opened up an exciting brave new world – other women searching for the Devine Feminine. 
The Reliquaries began out of my need to express and honor the sacred. Many cultural and spiritual traditions are embodied within these works as I continuously draw upon worldwide theological concerns to enrich and deepen my search for truth. 
Our Community Autumn Remembrance Altar
The 2,000-year-old Celtic tradition of Samhain, a Gaelic word meaning "summer's end," celebrated the belief that at this time of year, the veil between the worlds is thin and transparent, allowing easier communication between the living and the spirits of the dead. Samhain gradually morphed into All Hallows, then All Hallow's Eve, then Hallow E'en and finally Halloween. Remember that the word hallow means "to make sacred or holy." At this time of year, the Catholic Church celebrates All Saint's Day and All Soul's Day. India celebrates Diwali, the festival of lights. The Iroquois celebrate the Harvest of Corn and the Feast of the Dead.  Mexico celebrates a week-long, vibrantly colorful festival called The Day of the Dead.  To honor a beginning or an ending, stop by Stormwater and Create an amulet, talisman or Craft a Peruvian inspired Despacho, a prayer bundle.  Materials will be available for you but feel free to bring personal items as well.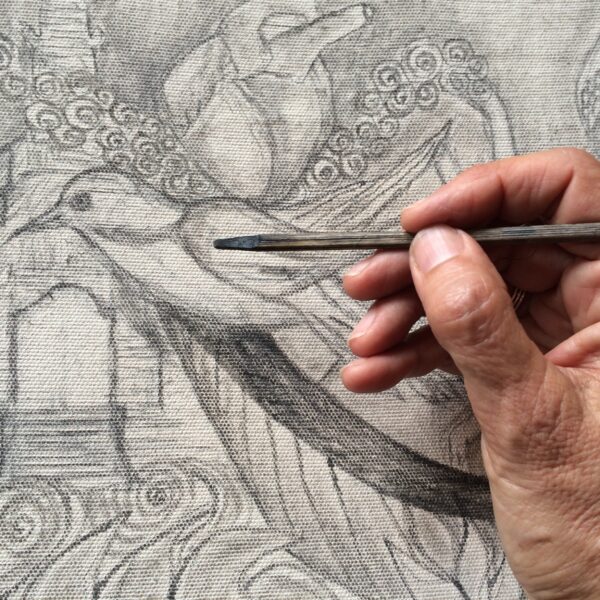 Help spread the word.
Share this event with your friends!