(July) ArtFields Extended: an exhibition of Columbia-area artists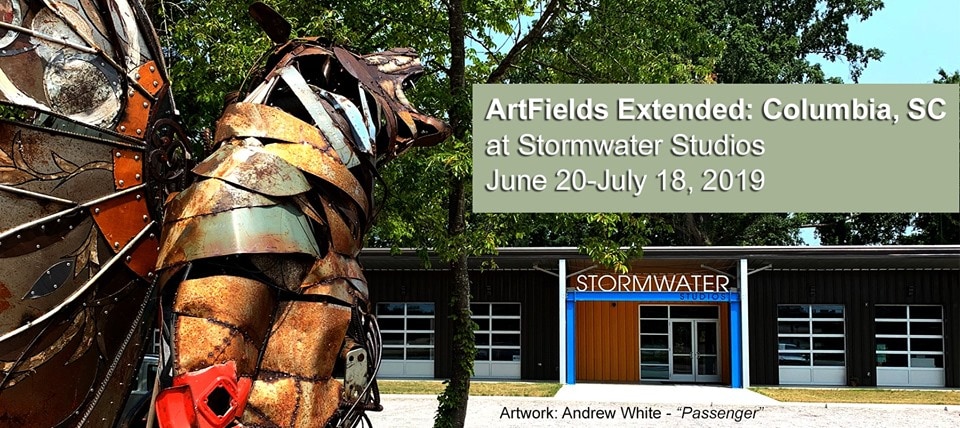 Join us this Thursday for a closing reception celebrating the artists featured in ArtFields Extended. This exhibition spotlights the Columbia area artists who were included in ArtFields 2019, the largest art competition in the Southeast held annually in Lake City, SC.

Stormwater Studios is proud to share the work of these talented local artists! 

Closing reception this Thursday (7/18) 5-9pm
Last chance to check out this show!
 Participating artists:  Dylan Fouste, Ron Hagell, Jennifer Kelly Hoskins, Flavia Lovatelli, Cait Maloney, Ginny Merett, Maggie O'Hara, Janet Orselli, Patrick Parise, Teresa Pietras, Carol Pittman, Lee Sipe, Janet Swigler, K Wayne Thornley, Kathryn Van Aernum, Wendyth Wells, Andrew White, Beth Woodall, and Olga Yukhno. 
More about the artists and their pieces >>
NEWS FROM OUR RESIDENT ARTISTS
Allison Moore is the SVAD Studio Artist in Residence for the month of July. She is an adjunct instructor at SVAD in Art Education and former artist in residence at the Richland Library. This will be Allison's second residency at Stormwater. During this residency she continues her current body of work, which references jewelry originally belonging to her great-grandmother Marjorie and her daughter, the artist's grandmother Dottie. Both women had a penchant for jewelry (both costume and fine), which Allison explores in relation to her own training and passion for contemporary craft.
More>>
Eileen Blyth'scolorful hand drum sculpture is ready for action at the Interactive Art Park in West Columbia. The park is scheduled to open this month.
More>>
Kirkland Smith is one of six artists/activists who employ discarded plastic as both an artistic medium and as subject matter to be included in Can't You Sea? | Ocean Plastic ARTifacts at the Franklin G. Burroughs- Simon B. Chapin Art Museum in Myrtle Beach. 6/15 – 9/8.
More>>
Eileen Blyth will be featured in a solo show "Crossed Wires" at Art & Light Gallery in Greenville in July. Opening reception 7/19.
More >>
Anna Redwine's new work will be featured in a solo show at if ART Gallery in September. Opening reception 9/7.
More>>
Save these Dates
July 20
Family Heirlooms and Oral History: A Drop-in Workshop with SVAD Studio Artist in Residence Allison Moore,1-2 pm
You are invited to bring a piece of heirloom family jewelry to share and learn more about! You can tell her all about it, and she will do her best to tell you more about the piece's history and manufacture (including period-specific methods used to create the piece). If you do not have a piece of jewelry to bring, you are also welcome to bring pictures. You will also be encouraged to write a short contribution sharing your family history or experience with the heirloom.
July 21
Heirlooms, Re-Interpreted: Making A Charm Bracelet with SVAD Studio Artist in Residence Allison Moore, 2-3:30pm
Charm bracelets are an enduring, popular format of jewelry. In this workshop, she will assist you in assembling your own charm bracelet. Bracelet chain, beads, and other odds-and-ends will be available, but you are welcome to bring your own supplies, too. Please register in advance by emailing Allison at [email protected] – space is very limited.
August 9
A toast to Laura Spong, opening reception at if ART Gallery, 6-8 pm
August 13
Remembering Laura Spong open mic event at if ART Gallery, 7:30pm
August 15 
Third Thursday open house, featuring a book launch  for Color After Green by Randy Spencer and the work of Atlanta artist Joe Dreher, former 701CCA artist in residence.
Celebrating our Native Wildlife
The Stormwater Studios campus was recently recognized as a Certified Wildlife Habitat®. We're thrilled about this celebration of our commitment to native flora and fauna, and we've begun the second phase of native-sensitive landscaping. We encourage you to enjoy it all with a picnic along the banks of Kinsler Creek or just a meditative stroll along our nature path. While you're here enjoy the new flagstone walkway leading to Lewis+Clark and One Eared Cow Glass. Visit the South Carolina Wildlife Federation for information about wildlife-friendly gardening practices and how you can create your own wildlife habitat!