Carolina Arts covers "Personal Grounds", upcoming exhibition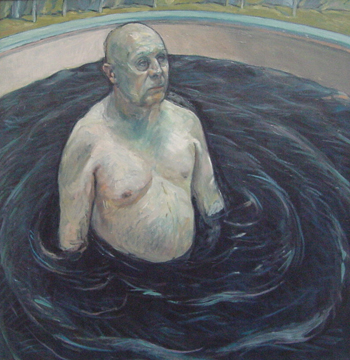 (Above: David Yaghjian's art.)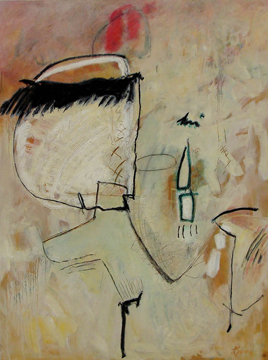 (Above: Laura Spong's oil.)
The April issue of Carolina Arts carries the following article and the two images above. To visit Carolina Arts' current on-line articles, click here.
Gallery 80808/Vista Studios in Columbia, SC, Offers Group Show
Gallery 80808 opens Personal Grounds, an exhibit featuring works by 13 artists from Vista Studios in Columbia, SC. The exhibit opens Apr. 17 and continues through May 6, 2008.
Personal Grounds stands as evidence that the artists delve into familiar territory but continue to turn fresh, fertile earth. David Yaghjian mines middle age experience and beyond in curious new paintings of his every man. These works include Baptism and Hedge. Don Zurlo excavates the painted canvas. The creviced, encrusted, and striated terrain of his new canvases evoke the efforts of geologic ages. Laura Spong intuitively mapped her recent life in her non-objective paintings fittingly named Life is not a Vase of Flowers and Pitfalls and Pinnacles.
To Susan Lenz, one's personal ground is the result of decisions made, paths taken, doors opened, and keys turned. In her installation for this exhibit spare keys are transformed into the elusive Key to Success, the ever-available Key to Failure, and the like; and keys, locks, nails, and assorted hardware affixed to salvaged doors map a life's journey. Scattered energies, dreams, and assorted hardware prove material for boxed assemblages by Pat Callahan. In a three box series she likens her scattershot efforts to chance board games. Similarly Heidi Darr Hope explores personal terrain in mixed media constructions.
Jeff Donovan continues to build whimsical ceramic heads with architectural features. One recent work offers a serene continence under a gabled roof. Pat Gilmartin also explores the human form as well as firing techniques. Her new works include delightfully round opera singers, mythic goat/man faces, and ceramic fish with softly smoldered surface, the result of sawdust firing. Robert Kennedy presents new figurative works on paper.
To Stephen Chesley, the South is a diminishing American frontier, lost to homogenized place and culture. His paintings preserve the shifting edges of South Carolina landscapes: fleeting twilight, fading tree line, cresting wave, breaking clouds, and shuddering palms. Painter Michel McNinch turns again to her native coastal terrain for inspiration.
For further information check our SC Commercial Gallery listings, call the gallery at 803/252-6134 or visit (www.gallery80808vistastudios.com).