Carolina Arts Article / 20th Anniversary Exhibit
Vista Studios/Gallery 80808 in Columbia, SC, Celebrates Its 20th Anniversary During This Year's Vista Lights – Nov. 18, 2010

We offered an article about this anniversary in our Nov. 2010 issue of Carolina Arts, but as usual, we didn't have space to give the event its proper notice. Vista Studios has been a longtime supporter of Carolina Arts and we surely want to give them all the support we can in return.
Surviving 20 years in any venture is an accomplishment, and in the art world it's a major feat, but Vista Studios is doing much more than surviving – it is thriving. This wasn't always the case but Gallery 80808 probably now hosts and presents more exhibitions than any other facility in South Carolina – about 25 each year.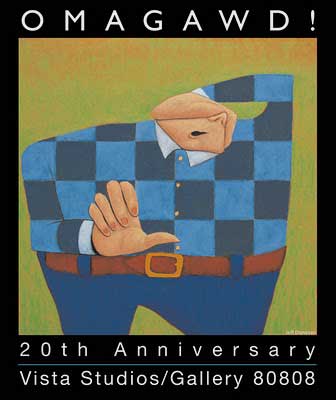 Image by Jeff Donovan
Besides providing studio spaces Gallery 80808 has featured exhibits by many other regional artists, art groups, and even International shows like CYBER FYBER in Jan. 2009, featuring fiber works by artists from around the world, organized by Susan Lenz, one of the current studio residents.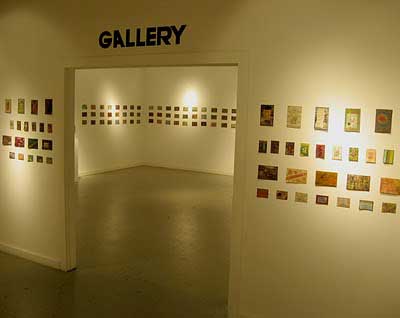 Fiber postcards from CYBER FYBER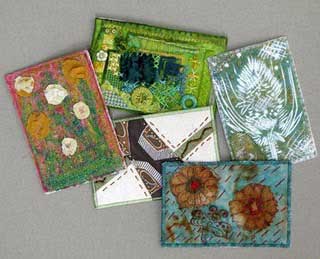 some of the fiber postcards
To celebrate this milestone a 20th Anniversary Exhibition, featuring works by current residents and former residents will be on view from Nov. 16 – 29, 2010. A reception is planned for Nov. 18, 2010, from 5-10pm during the annual Vista Lightscelebration.
We're also offering some images from past shows from the last couple of years.
Here's a little history offered on their blog found at (http://gallery80808.blogspot.com/)
It was a hot, early fall afternoon in the late 1980s when a group of artists, arts administrators and city leaders stood in an overgrown lot next to the Confederate Printing Plant on Gervais and Huger in downtown Columbia. They were there to walk through the more than one hundred-year-old building to look at the possibility of turning it into a much needed facility – artists' studios. Structural problems with the building and funding issues prevented plans for that space from maturing and the project languished. It would be 1990, almost two years later, before Vista Studios, a joint venture of Columbia Development Corporation and the South Carolina Arts Commission, would finally open at 808 Lady Street.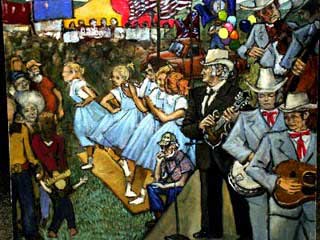 Work by Nikolai Oskolkov
The history of Vista Studios is closely tied to the redevelopment of the old warehouse district of Columbia, the Congaree Vista, and its rebirth as an arts district that began more than twenty-five years ago. Much has changed in the twenty years since the opening of Vista Studios and Gallery 80808. The Columbia art scene in the late 1980s and early 90s was very different. The Columbia Museum of Art was still on Senate Street in a space that severely limited its ability to feature significant contemporary art and there was no 701 Center for Contemporary Art. City Art was still Dutch Door and doing business in St. Andrews. The only commercial galleries downtown that regularly exhibited contemporary art were Carol Saunders, Lewis & Clark and Havens.
Like most urban areas across the United States, Main Street and the downtown area had been in a decline for at least ten years as many shoppers and merchants moved to the suburbs. Using the arts as an anchor for revitalization was a growing practice, and one that the late mayor, Kirkman Finlay, advocated in pushing for the designation of the Vista as an arts district. One of the keys to the growth of a thriving art community is affordable studio space. A vital step in the redevelopment of waning downtown areas has been the creation of publicly backed, multipurpose studio/exhibition spaces for artists. One of the most well known of these spaces developed across the country during the 1970s and early 80s is the Torpedo Factory outside of Washington, DC.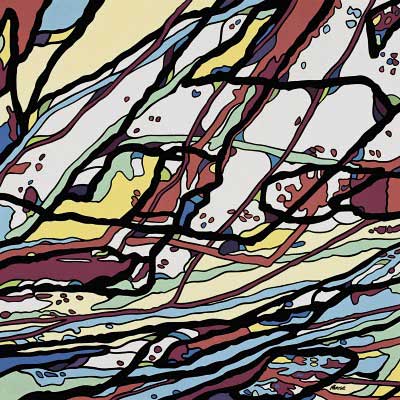 Work by Patrick Parise
There were already a few artists working in renovated warehouse spaces in the Vista area – Clark Ellefson, Eleanor Byrne, and Rosie and Mike Craig – as well as arts organizations like the Columbia Music Festival Association. Despite this, visual artists were still virtually invisible in the city due to a lack of professional workspace, exhibition space and the visible presence of a concentrated, critical mass.
Several different options were discussed and later abandoned in addition to the Confederate Printing Plant before the warehouse behind Molten/Lamar Architects on Lady Street was selected for the studios. Several factors (and people) were key to moving the project forward at this point. Kirkman Finlay, who as mayor and later board chair of the Columbia Development Corporation (CDC), was a driving force behind the project. He had the vision to see the advantages of including the arts in his plans for the city's revitalization. After going without a director for almost a year the CDC hired Robbie McClam to lead this initiative. He quickly identified the studios project as one that would provide focus for the Vista as an arts district, and worked closely with David Houston and Harriett Green of the South Carolina Arts Commission to bring the necessary constituencies together. Richard Molten and Dick Lamar of Molten/Lamar Architects, both with a strong interest in the arts community, were particularly appropriate as developers and future landlords for the space.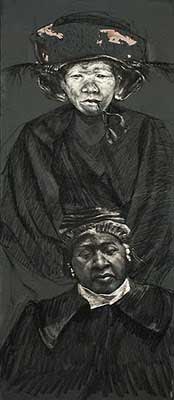 Work by Tyrone Geter
Almost twenty artists gathered with Molten and McClam for the walk-through of the raw warehouse space in the summer of 1989. Several months later, thirteen studios, a gallery and common area had been carved out of the area behind Molten/Lamar's offices. The architectural firm took on most of the renovation costs – around $100,000 to install heat and air, plumbing, and dividing walls – with the CDC contributing $30,000. The state arts commission supported the project for several years with a renewable $10,000 grant. Eventually Vista Studios became self-sustaining with funding being covered by the rents for the studios and community rental of the gallery space. The CDC with its current director, Fred Delk, continues to support the art space. The Cultural Council of Richland & Lexington Counties has also provided funding for specific projects throughout the years.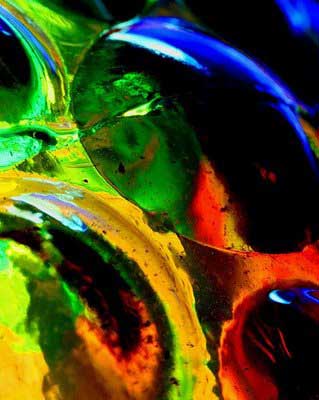 Work by Todd Oelze
Fourteen artists/pioneers moved in initially: Heidi Darr-Hope, Robert Kennedy, Tom Brewer, Barbara Bydalek, Lyn Bell Rose, Mark Bourlakas, Mike Williams, Frances Perkins, Judy Nankin, Arline Murphy, Deborah Sherer, Yvonne Ruff, Margerie Ross and Anne Bjork. The artists were selected by a panel that included USC art history professor Brad Collins, artist Eleanor Byrne along with McClam and several others. A similar internal jurying process for new resident artists continues today. The artists' first group exhibit in the 1990 spring Artista Vista event was the symbolic culmination of the project.
Since that first exhibit, Vista Studios has continued to play an important role in the ongoing development of the arts community in Columbia. A number of other cooperative artists' spaces have since been created, scattered across the central part of the city from Rosewood and Five Points to the most recent one in the old Arcade Building on Main Street. A thriving, active visual art community has grown out of what was a relatively small public investment twenty years ago.
Out of the original 14 studio residents, Heidi Darr-Hope and Robert Kennedy are still there. Throughout the 20 years, 28 other artists have come and gone including: Bob Allison, James C. Bassett, Carol Barks, Tyler Ann Blanton, Dana Shenkar, Paul Bright, Pat Callahan, Brent Davenport, Charles Dillingham, Reuben Gambrell, Cindy Giddings, Peggy Gordon, Jeannette Grassi, Tonya Gregg, Susan Hogue, Bill Jackson, Christina James, Robin Jones, Deanna Leamon,, Rob Lowe, Brooks Meyers, John D. Monteith, Richard Morgan, Gene Speer, Chris Thee, Brent Wahl, Amey Warder, and Don Zurlo.
The current 13 residents include: Ethel Brody, Stephen Chesley, Heidi Darr-Hope, Jeff Donovan, Pat Gilmartin, Robert Kennedy, Susan Lenz, Sharon Licata, Laurie McIntosh, Michel McNinch, Kirkland Smith, Laura Spong, and David H. Yaghjian.
For further info about Vista Studios or Gallery 80808 visit (http://www.vistastudios80808.com).
Tags: Columbia Development Corporation, Columbia SC,Congaree Vista, Molten/Lamar Architects, Nikolai Oskolkov,Patrick Parise, South Carolina Arts Commission, Susan Lenz, The Cultural Council of Richland & Lexington Counties, Todd Oelze,Tyrone Geter, Vista Studios/Gallery 80808
This entry was posted on Saturday, November 6th, 2010 at 9:36 pm and is filed under Columbia SC Visual Arts, SC Visual Arts. You can follow any responses to this entry through the RSS 2.0 feed.